MIFMA Honors Recertified Market Managers
The Michigan Farmers Market Association (MIFMA) is proud to announce that five market managers qualified for recertification this year as part of our Market Manager Certificate Program Continuing Education Program: Carol Moody, Emily Lyons, Lucy Pier, Michelle Primmer, and Nicole Morba. Continue reading to learn more about these market managers and the important work they do in their communities.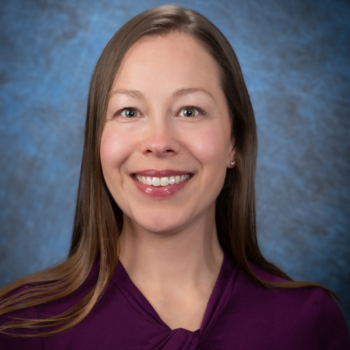 Emily Lyons is the Director of Innovation & Small Business and Manager of the Midland Area Farmers Market for the Midland Business Alliance.
Emily holds a bachelor's degree in Horticulture from Michigan State University, is a MIFMA Certified Market Manager and holds a Certificate in Applied Positive Psychology. She loves local food and can always be found scouting out a farmers market where ever she goes. Growing up in Metro St. Louis, MO she learned to love the Farmers Market by attending Soulard Farmer's Market. Emily is a proud Air Force mom and veteran Army wife. She and her family have called Midland home for the last 13 years.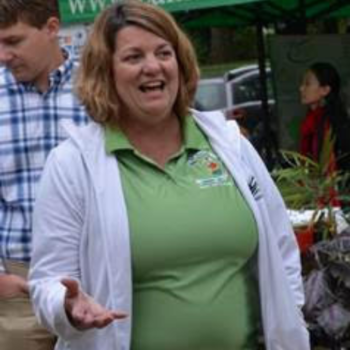 Carol Moody is a Recreation Coordinator and a Certified Farmers Market Manager for the City of Mt. Pleasant. Carol has worked in the recreation field for more than 25 years and has a background in event management. In 2012, Carol welcomed the opportunity to expand on her career portfolio and manage the Mt. Pleasant Farmers' Market. After attending the MiFMA Annual Conference, it was evident that some quick learning was in order; because we all know – food doesn't just come from the grocery store. Although Mt. Pleasant's Farmers Market began in 1973, Carol discovered many of the aspects of the market had not transitioned with the market over time and were still in their infancy. In 2013, Carol participated in the Market Manager Certificate Program offered through MiFMA.  This training was crucial and provided a solid foundation for leading the market, expanding services and equipping her to take the necessary steps to accept SNAP benefits at the market. Becoming a Certified Market Manager was just the beginning for developing her knowledge base to successfully implement and evaluate a market. Collecting and sharing metric data including customer counts and market sales has proven beneficial and quantifies that Mt. Pleasant Farmers' Market is truly one of Mt. Pleasant's community treasures.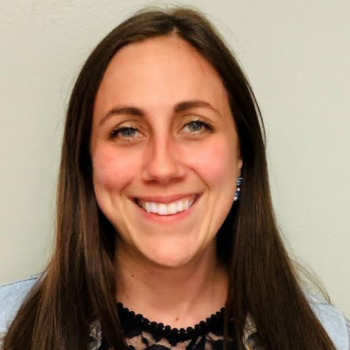 Nicole Morba currently serves as the Food Access Manager for the Eastern Market. Graduating from Michigan State University in 2015 with a degree in Agribusiness Management and Sustainable Agriculture and Food Systems, she has experience from many sectors of the food system. She began at the Eastern Market in 2017, and became a Certified Market Manager in 2018. In addition to her work at the Eastern Market, Nicole has also managed the City of Taylor's Market since 2019. The MMCP has strengthened her knowledge and love for the ins and outs of farmers markets, which she believes are a key part to a more food sovereign world.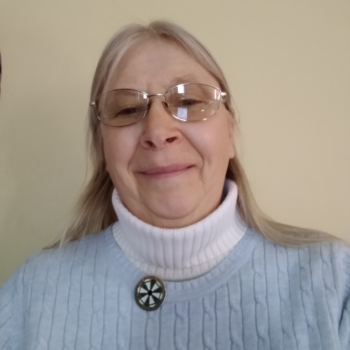 "Mother of three wonderful boys, Married to an understanding and supportive husband, and Grandma to two fantastic grandkids. All who have helped, encouraged, and supported all my wild ideas.  From letting me try my hand to farming, joining the local farm market. To certifying our farm Organic, to driving to Lansing and back to Menominee the same day to be part of the first group of graduating Certifying Market Managers and yearly conferences.  To being a MIFMA board member, Menominee DDA board member, Menominee Downtown Business Association board member.  Supporting me in getting involved with hoophouses and Hoophouse for Health, where my grandkids helped teach preschoolers about eating fresh fruit & vegetables. Getting involved with Snap, WIC Project FRESH, Senior/Market FRESH, and Double Up Food Bucks'.  For the long hours for working on the Upper Peninsula GAP pilot Study to help small farm have rules and regulations used for farm food safety.  For all the help on organizing the yearly Giant Pumpkin Festival, helping me find giant pumpkins and my son racing in them against his mom.  To letting me expand my talents to open and operate another farm market in Marinette Wisconsin, The Marinette Artisan & Farm Market. And being my partner during the Covid -19 to make sure our market was functional during the pandemic.  A huge Thank You to MIFMA and its crew on helping me make this all possible from 2006 to 2021.  I look forward to more wild ideas in the years to come."
MIFMA has designed continuing education opportunities for individuals who have successfully completed the Market Manager Certificate Program (MMCP) and would like to further pursue leadership skills and professional development in topics essential to market management. In order to maintain a professional level of acknowledgment in their field, certified market managers are able to earn professional development hours towards recertification. For more information, click here.